Friends of The Library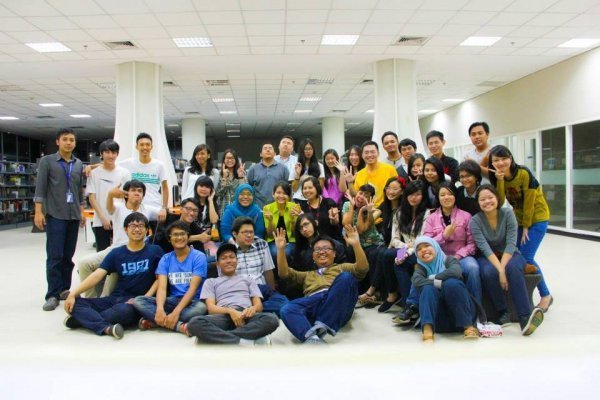 Friends of the Library or commonly abbreviated as FLY was built by the Universitas Multimedia Nusantara Library in 2011. FLY was developed to establish synergies between UMN students, staff, and lecturers, form a community that plays a role in strengthening the position and role of libraries inside and outside UMN, and conducts various activities such as seminars, book reviews, workshops and exhibitions to promote the library.
The history of FLY started when several students did several projects with the library. As time goes by, FLY grows and develops into a community and a forum for library activities. FLY volunteered to help developing libraries. This activity is often referred to as social works. This social works program often helps to run contrivances in the library service division and collection development division.
Since its establishment in 2011, FLY has undergone numerous leadership changes. The first time it was founded, FLY was led by Christian Orvin, the then-Computer Systems year of 2012 student. Every student outside FLY who wants to join is allowed to become an active member. Read terms and conditions below:
Conditions for becoming a member of FLY:
1.

Active students of UMN
2.

Confirming willingness to become a member of FLY through library staff by contacting

[email protected]
3.

Attend members' meetings every Wednesday, 17.00 WIB at the library
4.

Contribute to FLY programs in particular and the library in general
Benefits of being a FLY member:
1. Can be a UMN library ambassador
2. Can see the new books ahead of non-FLY member
3. Have more knowledge of libraries than others
FLY Activities:
1. Rak UMN
Rak UMN aims to share knowledge about the contents of a book by providing suggestions related to the advantages and disadvantages of a book to the audience at UMN. The Rak UMN is packaged using the concept of a talk show, where the audience can meet directly with the author to explore more about a book. The Rak UMN is intended as a means increasing students reading interest in books in the library and a bridge for students who are interested in publishing books.
2. UMN Book Fair
This event was held to become a center for book and library promotion as well as a literacy activity for new students. UMN Book Fair also aims to establish good cooperation between libraries, publishers, distributors, bookstores, and patrons. This event is expected to have a good impact on the UMN members and publishers.
3. Library's Theme Week
Lots of UKM events are held at UMN. The library will collaborate with several UKM. Librarian and FLY design the library to follow some of the UKM's themes and display several books related to the theme for a week.