Posted on :
March-06-2020
Category &nbsp:
Libraries, Seminars, Collaborations, Information Literacy
This event was the premiere for Universitas Multimedia Nusantara, Universitas Pelita Harapan, and Swiss German University to collaborate to hold a Gelar Literasi at the Lobby of The Garden Living World Mall Alam Sutera on Saturday, February 29, 2020. The event was held in two series. The first series was a seminar with the theme of smart citizens, smart society, smart learning, followed by a Wide Wit War board game competition. Participants consisted of several librarians from Jabodetabek, college students, and high school students, as well as participants in the board game competition.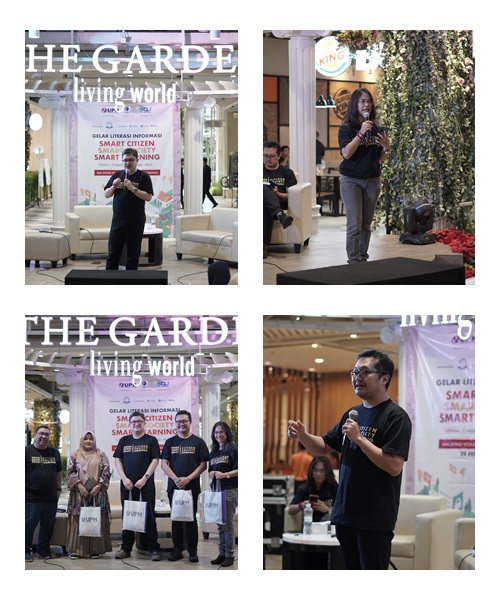 The seminar was opened by the Vice-Chancellor of SGU Dr. Irvan S. Kartawiria, ST, M.Sc. In his remarks, he said that librarians have an important role in escorting the public to sort information, especially with the very high use of gadgets and the active information dissemination that should be fast, the public already has information literacy knowledge that is comparable to actively using technology and social media.
The head of the event organizer, UPH Library Manager Dhama Gustia Baskoro (he acted as the seminar moderator too), said the aim of this event was to increase awareness to the general public, especially to students regarding information literacy, and to introduce that information literacy is a daily lesson and can be learned in a creative way.
Ismail Fahmi, Ph.D. (Founder of Drome Emprit & Drone Emprit Academy) as one of the speakers, said that in the era of disruption, there was a flood of information, especially in social media. Information flood is a phenomenon where 80% of information is not structured such as hoaxes, disinformation, misinformation and only 20% of structured and credible information is in the form of tables, research, and so on. Therefore, it is important to take a direct approach to all Indonesians to fight the spread of hoaxes. In addition, Hanna Chaternia George, SS, M.I.Kom (Information Literacy Expert and Chair of APISI) said educational institutions have an important role in providing information literacy science with creative and innovative programs. Parents have a role to instill the importance of information literacy by being accustomed to reading since early stage.

To spread the information literacy movement to the general public, the committee conducted campaigns, trivia prizes, and mini-games for mall visitors. According to Dhama, this campaign was carried out in order to see to what extent the public's understanding and application of information literacy was.
As an inaugural collaboration event, it is hoped that this event can become a place to share knowledge and experiences with the general public to provide awareness that the main goal of information literacy is long-life learning and shape the community to become sensible people in receiving or disseminating information.